Secondary Tax Code — WT
What Is Tax Code 'WT'?
Note: This tax code only applies to temporary, casual and seasonal workers, so you can skip this if you want.
WT tax code is for what was formerly known as Withholding Tax, is now known as Schedular Payments. It really only affects a small portion of New Zealand workers, particularly "independent contractors", not an employee in a different company; or working for a company in the agricultural, horticultural and viticultural industries; or a non-resident company - otherwise, his tax will be as per PAYE.
In short, schedular payments only concerns contractors who take their tax responsibilities completely into their own hands.
Some common types of schedular payments include:
payment for modelling.
company directors' fee.
insurance agents or salespersons commission.
contract payment to non-resident contractors.
fees for persons exhibiting or demonstrating goods.
payment for the supply of labour to construction projects.
payment for non-residential gardening, cleaning, or weed destruction.
payment for some form of agricultural, horticultural and forestry work.
payment to journalists, photographers, entertainers, writers, and artists.
Remember: Contractors are responsible for their own ACC earner's levy and student loan repayments.
Since 1 April 2017, the new change gives contractors a broader range. They can now elect their own withholding tax rate.
They can choose to elect a lower withholding tax rate right down to a minimum of 10%. (15% for non-resident contractors, still 20% for non-resident entertainers).
Withholding Tax:

Where to Find & Enter Tax Code 'WT'?
1.  After logging in, go to your Dashboard
2.  Click Employees tab on the left.
3.  Select an employee from the list.
4.  Click the Tax tab below the Personal tab.
5.  Select Tax Code WT from the drop-down list.
Screengrab sample: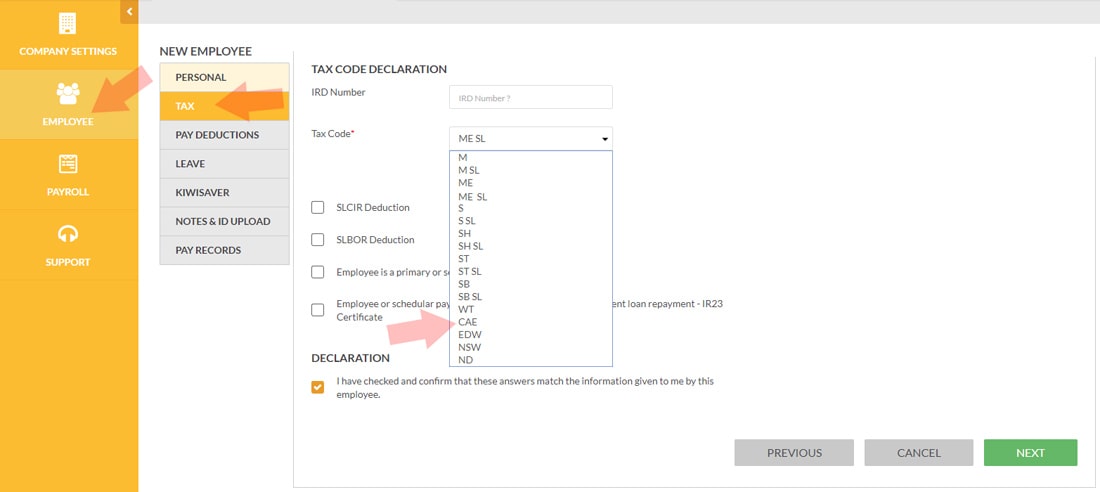 ---
Click A Tax Code To Proceed
Keeping track of my employees' payroll used to take me hours, days even, now, I do it in minutes.

– R. Burt